---
Latest News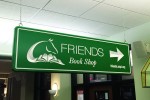 Get half off at the book shop in the Saratoga Springs Public Library from Oct. 16 to Oct. 25.
Founded in 2007 by the Women's National Book Association, this celebration is designed to promote literacy and a love of reading.
Sunday, Oct. 3 is the start of Mystery Series Week, which runs through Saturday, Oct. 9.
View Archived Posts
Upcoming Events